The famous Swedish car brand has entrusted Apave with the task of training its technicians in working under voltage so that they can handle the batteries of their electric cars in complete safety.

Volvo is showing its ambitions on the electric mobility front. The Swedish company will be a 100% electric car manufacturer by 2030 from a global perspective, and 2025 in Europe.
The Apave teams at Evry-Lisses are actively involved in this policy of electrifying their vehicles by training their technicians in live work so that they can handle the batteries of their electric cars in complete safety.
We met Thomas Pichard, head of skills development for Volvo Car France at the Volvo Bidaud Père et Fils dealership in Athis Mons.
Our strategy of full electrification by 2025 is clearly announced!
All-electricity at Volvo
means training
"Our strategy of full electrification by 2025 has been clearly announced," says Thomas Pichard.
The group has taken the lead by deciding to train some of its technicians in live working from 2019 so that they can be qualified to change electric vehicle batteries. The live work training, LWT on vehicle batteries, is carried out by Apave, at the Evry-Lisses training centre in France. All the "Voltech" (editor's note: technicians with the highest level of training in the Volvo network) in France go through this training centre where a tailor-made programme has been created for the group.
Within the Volvo network, there are 350 technicians, 160 of whom are "Voltech" qualified. These are ++ technicians who are able to carry out diagnostics on the vehicles and, if necessary, open the battery pack.
"Safety is part of Volvo's DNA, so naturally we wanted to entrust the safety of our technicians to experts, hence the choice of the Apave group," says Thomas Pichard.
Training under real-life conditions of
a garage workshop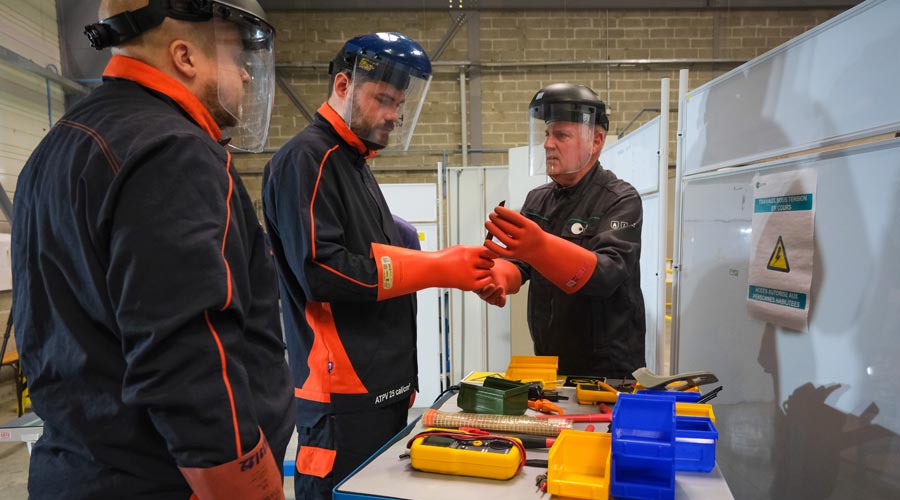 For the past three years, the Apave teams at Evry-Lisses have been organising training sessions for a maximum of four people under real garage workshop conditions. A T.S.T. platform has been made available to Volvo employees. They train directly on their own battery model.
In order to follow the course, each trainee must meet strict prerequisites before starting the training :
Come with your own Personal Protective Equipment, P.P.E.. The OrgTST*, prohibits all training organisations from providing I.P.E. to trainees. A complete check-up is carried out by the trainer before the start of the training. No I.P.E., no training!
To hold the title of non-voltage electrical authorisation
Be in possession of a document called the "Employer's Undertaking" which certifies that the employee has electrical skills
At the end of the 3-day training course, the trainees receive an opinion on the T.S.T. clearance.
The final authorisation is then issued by the employer.
The next step in the
Apave/Volvo collaboration
From now on, Volvo's technicians, trained in 2019, will have to update their knowledge as refresher training is mandatory every 3 years. They will have to re-train their skills so that they can continue to work on the battery pack and ensure safety in their workshop.
Growing demand for Live Work training
on vehicle batteries
Live Work training has been multiplied by 2 in 2022 compared to 2021 for the Apave group. Many car manufacturers now call on our services to train their automotive electromechanics.

Apave's teams are working to meet this demand throughout the country.
Currently, 3 Apave training centres are authorised to provide T.S.T. training:
Mulhouse (68)
St Quentin-en-Yvelines (78)
Evry-Lisses (91)
From 2023 and 2024 new locations will be available:
Lille (59) on 01/01/2023
Toulon (83), Lyon (69), Bordeaux (33), Rennes (35), Montpellier (34) on 01/01/2024
*OrgTST: an organisation whose mission is to provide technical support to the Ministry of Labour in examining applications for approval.
What is a
Live Work platform?
A Live Work platform is a closed space of about 70 m², forbidden to unauthorised persons. There is a workbench on which the battery pack is located, usually lithium batteries that can weigh more than 400 kg. The battery pack consists of several batteries charged with electricity. There is also a workshop crane that allows the safe removal of battery cells from a pack. Dedicated tools are provided to the trainees so that they can work safely.