A construction site under high surveillance
The historic commercial hub of the city of Pau, the Foirail is at the heart of a major urban rehabilitation project that will transform the old market into an active place dedicated to culture and the performing arts. The new building will retain the concrete dome with a surface area of 1,000 m2, built in 1960 on twenty or so posts connected by a beam. Completely renovated, it will house an auditorium and the hall dedicated to cultural activities.
To meet the technical challenge of renovating the structure, the city of Pau called on the expertise of the Apave Group. For this unusual project, the group deployed its innovative AP'Structure solution, the first operational modal analysis system for structures, to monitor the integrity, health and maintenance of the dome in real time throughout the reinforcement and modification work.
Ap'Structure: state-of-the-art Structural Health Monitoring (SHM) technology for the rehabilitation of structures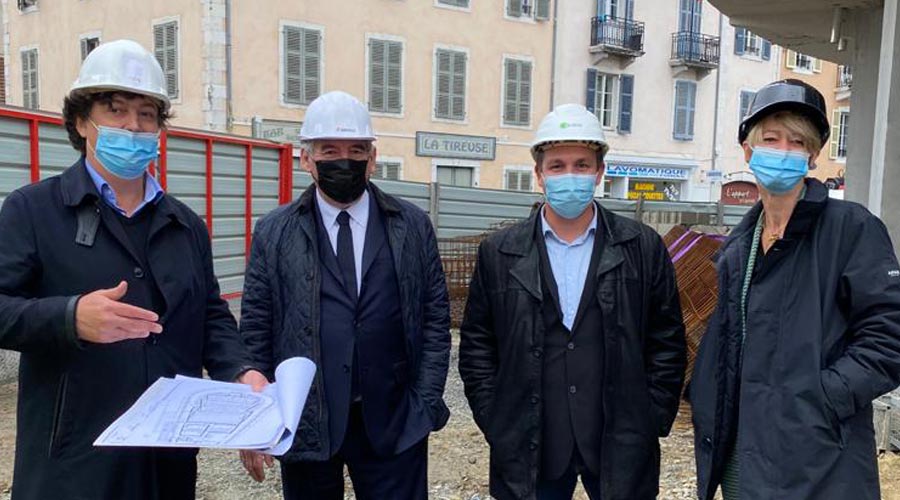 AP'Structure is an innovative solution that uses the world's most sensitive intelligent sensors, which are energy independent, wireless and remotely controllable. Installed directly on the structures, they allow the real-time monitoring of the behaviour of the structure. 5 sensors were installed.
After processing by algorithms, the analysis of the dynamic data allowed to know more about the structural state of the structure and to interpret the real behaviour of the structure during the demolition and reinforcement phases and especially during the modification of the dome supports. Indeed, the project showed that the removal of concrete columns could be done in order to allow an opening of the stage frame of the auditorium to 18 m wide.
On the occasion of a visit organised on 7 May by the city of Pau in the presence of Mr François Bayrou, Mayor of Pau and President of the Pau Bearn Pyrenees agglomeration community, our experts Julien Harymbat and Bruno Abadie presented the Ap Structure to the local press.

credits © City of Pau.