With an investment of €5M and nearly 3,000m² of facilities for different professional specialisations, the training centre in Takoradi (Ghana) offers local and regional players a complete range of more than 120 training courses all centred on a common theme: safety.
Apave now has the first CompEx training facility (international system for the validation of skills and certification of personnel working in explosive atmospheres) in Ghana and one of only four in the whole of Africa. The facilities and teaching resources will also make it possible for HSE training, ISO 21001 compliant skills training, and OPITO rigger training to be offered to clients.
In addition to the training offer, the Ghanaian teams have the skills and resources to offer their clients complementary expertise such as NDT (non-destructive testing) services with traditional or innovative equipment, as well as new "onshore" and "offshore" services.
A major inaugural event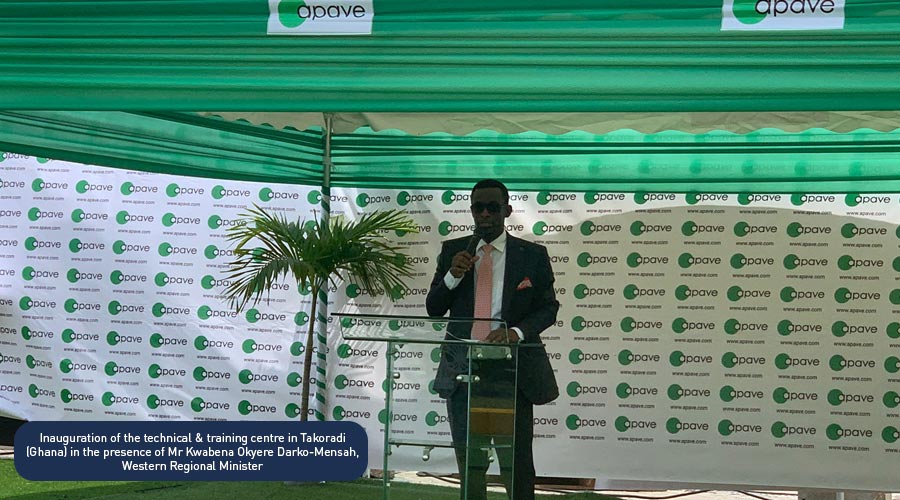 The inauguration event, which took place on Thursday 17 February 2022, in Takoradi, Ghana, was attended by the Group's Chief Executive Officer, Mr Philippe Maillard, and other members of the management team, as well as several Ghanaian government officials. Also present were several key clients from three main sectors: energy (including oil and gas operators), agribusiness (with a focus on the cocoa industry) and mining.
The opening of this new centre in Ghana confirms Apave's desire to develop in Africa, particularly in the training sector: a geographical sector and business line defined as a priority for the Group's development in its 2025 strategic plan.
Multidisciplinary centre of expertise
to meet the region's needs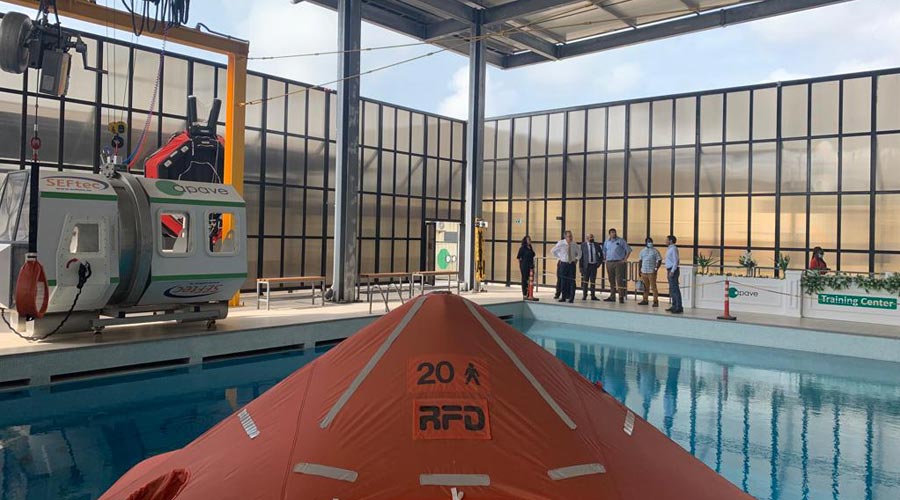 The facilities at the new centre include a number of specialised areas: a pool area for safety at sea training, an outdoor area dedicated to basic and advanced fire protection training, OPITO-certified training facilities, an area dedicated to scaffolding training, and an area focused on lifting and crane training.
The purpose-built CompEx training facility will allow Apave to deliver CompEx Foundation and CompEx Ex01-Ex04 training to provide internationally recognised electrical skills specific to explosive atmospheres.
CompEx, the international system for the validation of competencies and certification of personnel working in explosive atmospheres, responds to a need for stakeholders in various industrial sectors to acquire recognised competencies through a network of training and assessment areas around the world.
Internationally recognised
accreditations
The centre already holds numerous accreditations such as ISO 21001, OPITO certifications for Competent Rigger Training (Stages 1 to 4) and CompEx certification. In addition, the centre is certified by the SSI Diving School for dive training and is accredited to deliver NEBOSH qualifications - an international body that offers health, safety and environmental qualifications.
In the next three months, the Takoradi centre aims to obtain OPITO BOSIET 1/HUET 2/FOET 3 certifications, IRATA certifications for Level 1 to 3 courses, as well as ECITB certifications. The development plan for 2022 focuses on obtaining OPITO certifications for the offshore and helideck emergency courses and becoming the only training provider offering this course in the region.
"The Ghana Technical and Training Centre is a major development project for Apave. It will enable us to bring highly specialised technical skills and training to the country and the region as a whole, as well as to its local industrial sector. The oil and gas industry and the construction sector in Ghana provide enormous employment opportunities for local communities and we want to help the Ghanaian people, as well as neighbouring countries, to develop vital skills to support the industry in its current and future growth. With our existing training facilities, we are helping local companies to access skilled labour locally rather than looking further afield," said Maja Todorovska, QHSE and Training Manager for Apave's oil and gas activities and the Manager of the Technical and Training Centre in Takoradi.
1 - Basic Offshore Safety and Emergency Training
2 - Underwater Escape Helicopter Training
3 - Additional Training on Emergencies at Sea Training